Grilled Balsamic-Garlic Crusted Pork Tenderloin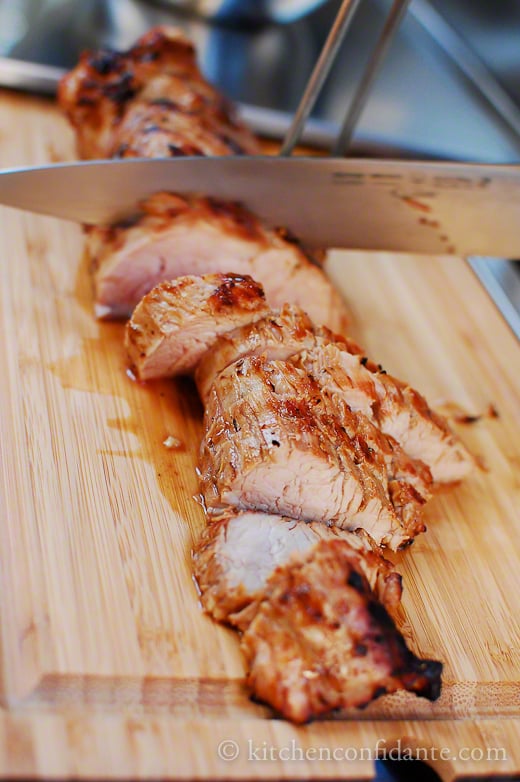 4-5 garlic cloves, finely minced or crushed
2 tablespoons balsamic vinegar
2 1/2 teaspoons coarse salt
1/2 teaspoon freshly ground pepper
2 tablespoons olive oil
2 pork tenderloins (about 1¼ pounds each)
2 tablespoons canola oil (if preparing in oven)
Directions:
Stir together garlic, balsamic vinegar, salt, pepper, and olive oil in a small bowl. Rub the paste all over pork. If you like or have the time, marinate overnight. If not, no worries, it will still be great!
Grill preparation:
Sear the tenderloins on all sides, then grill for about 20-30 minutes, rotating every 10 minutes, until the internal temperature is 160 degrees. Try to let it rest before slicing.
Oven preparation:
Preheat oven to 400 degrees.
Heat canola oil in a large, heavy saute pan over medium-high heat. Working in batches if necessary, add pork, and brown all over, about 4 minutes.
Transfer pan to oven. Roast pork, turning occasionally, until the internal temperature is 160 degrees, about 20 minutes. Transfer pork to a cutting board, and try to let it rest 10 minutes before slicing.



Barbecue Roasted Salmon
·
2 tablespoons
fresh lemon juice
·
4
(6-ounce) salmon fillets
·
2 tablespoons
brown sugar
·
4 teaspoons
chili powder
·
2 teaspoons
grated lemon rind
·
3/4 teaspoon
ground cumin
·
1/4 teaspoon
ground cinnamon
·
Combine first 3 ingredients in a zip-top plastic bag; seal and marinate in refrigerator 1 hour, turning occasionally.
Preheat oven to 400°.
Remove fish from bag; discard marinade. Combine sugar and next 5 ingredients (sugar through cinnamon) in a bowl. Rub over fish; place in an 11 x 7-inch baking dish coated with cooking spray. Bake at 400° for 12 minutes or until fish flakes easily when tested with a fork. Serve with lemon slices, if desired.
2. 3 Cups Fine Dry Italian Bread Crumbs.
3. 1 Small Package Dry Italian Dressing Mix.
4. 2 Tablespoons Fresh Grated Parmesan Cheese.
5. 1 Tablespoon Dry Powdered Garlic.
6. 6 Large Loin Pork Chops.
You will want to mix ingredients 2 - 5 in a large bowl and mix together very well. Now pour a layer of ranch dressing out into a plate. Take one pork chop at a time and coat it on the plate with ranch dressing and then put the pork chop with the ranch dressing on it into the large bowl with the bread crumbs and coat it well on all sides. Add more ranch dressing to the plate if you need to.
Have your tin foil lined baking pan setting there ready. Spray the tinfoil with vegetable cooking spray. Place your breaded pork chops onto the tinfoil covered pan and once you have all your pork chops on the pan place it into the oven and bake for 45 minutes or until the thick part of your pork chops reach an internal temperature of 160 degrees. As soon as your pork chops are done remove from the pan and serve as soon as possible.
And I really believe that once you taste these pork chops you will agree that they are truly the best pork chops you will ever eat.